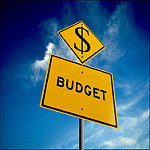 The following is a guest post by Richard Adams. Richard is a UK personal finance blogger and obsessive money-saver. His blog can be found at http://www.FrugalityMagazine.com. Enjoy!
Budgeting. It's a critical skill for those of us trying to build a strong financial future. But for all the talk about budgets, controlling your spending can be a lot harder than you might first think.
I speak from personal experience.
Over the years I've tried to create one budget after another. I'll be honest; my initial attempts for a dismal failure. But over time I found my budget getting more and more effective. So while it's taken some time to reach "budget nirvana", my own experience suggests it is possible.
The key is identifying those areas that keep on causing problems. Once you know the potential pitfalls you're all the better prepared to deal with them. As a result you can create a budget that really works, and helps you to control exactly where your money goes.
But if you're just getting started with a budget, what are those habits that derailed my plans time and again? In other words, what should you look out for if you want your budget to work?
Lack of Visibility
They say that you can't manage what you can't measure. Creating a budget is all well and good, but it's not an end in itself. Instead, in order to control your spending you need constant feedback; both on how you're doing and on what corrections are necessary.
When I first started budgeting I would create a monthly budget and then run with it. Then just a few weeks later I'd discover that the money had run out (again). The reason was that I wasn't consistently tracking my progress. As soon as I started to track my money on a daily basis I found it easier to spot any problems, and to modify my spending to achieve my goals.
There are a number of ways to track your budget. Some people subscribe to the "envelope system", using all cash that has been carefully divided up into categories. Others simply decide on a cash budget for the week, pop it in their wallet and try to make it last. Possibly the greatest threat comes in the form of credit cards and debit cards, because you're not being faced with actual cash every time you spend.
Under such circumstances try to use one of the many budgeting apps available to track your spending, or install your bank's app on your phone so you can monitor your balance over time.
The exact system you use isn't critical, and the best solution will depend on your individual personality. What is critical, especially in the early days of budgeting, is to track your spending on a daily basis.
Someone should be able to stop you randomly in the street, and you'd be able to tell them your bank balance within a couple of dollars. Only when you get to know your money this intimately can you be certain of managing your budget properly.
"Tiny" Spending
We tend to pay a lot of attention to large purchases. That new cell phone or flat screen TV probably gets a lot of research and thought before you finally hand over your cash.
But smaller purchases tend to be treated entirely differently. Whether it's a takeout sandwich, a newspaper or a packet of cigarettes, these "tiny" purchases are often made without a second thought. After all, how much of a difference is a couple of dollars really going to make in the grand scheme of things?
The honest answer is: quite a lot. The reason is that because many of us are happy to spend small amounts of money without too much consideration, we tend to do it regularly. That daily newspaper and coffee can quickly start to add up.
The key message here is that all spending matters, irrespective of how insignificant the sum really is. Pay attention to where your money is going, and make conscious decisions about how you're going to spend (or save!) every last dollar.
Lack of Control
It's no secret that budgeting your money can take a fair amount of self-discipline, at least in the early days. All too often I speak to people who start off with the best will in the world, only to give in to temptation a short while later.
Fortunately there are all sorts of ways to do this. One of my favorite examples is to think of money not in terms of dollars, but in terms of hours worked. Figure out your hourly income (after tax) and look at prices in terms of "4 hours of work". Applying this principle I've found that spending my money looks rather less appealing.
Unexpected Expenses
One of the most frustrating aspects of carefully planning your spending is when an unexpected bill drops through the door, or your car suddenly needs some emergency work. In the space of a few minutes your whole budget gets blown out of the water.
The funny thing is that unexpected expenses don't necessarily need to be so much of an issue.
There are two solutions I have used which make such expenses almost a non-issue.
The first of these is the creation of an "emergency fund". This is a pool of money separate to your budget which sits in an instantly-accessible account exactly for situations like this. If a financial emergency arises you can simply draw money from this fund without needing to touch your budget. Then next month you can simply modify your budget to start rebuilding that fund.
The second solution is that most other unexpected bills can be planned for, if you base your budget on a long-enough period of time. For example I pay my car insurance once a year, and it would be all too easy to be surprised the next time it comes around. Instead I have planned out all these payments in advance, and put aside a small amount of money in my budget to cover them. When that insurance finally becomes due I've already put aside all the money over the preceding months.
In other words to avoid unexpected expenses derailing your budget take time to start an emergency fund, and to consider what big purchases you make only occasionally and plan for them well in advance.
Unnecessary Waste
The last factor which can ruin your attempts at budgeting is simply "waste". One of the most common examples is the amount of food that people throw out each week because it is past it's best. As a result they're literally throwing money in the bin, then having to replace that food with yet more. If you budget $100 for groceries then throw $25 worth in the bin you better believe your budget is going to struggle.
So take the time to learn how to control the waste that comes out of your kitchen. In doing so you can be sure to use as much as possible. For example, consider freezing items like bread and milk to keep them fresh, only defrosting them when you really need them. Additionally, consider buying frozen vegetables rather than their fresh equivalent. They're just as nutritious but won't go off while your back is turned.
As you can see there are all sorts of ways that your budget can fail – but in almost every situation there are solutions. If you're going to invest the time to actually create a budget, then these simple principles can make it all the more effective. Produce a budget that truly works and you're well on your way to better times.
How about you all? What habits do/did you have that did a number on your budget? How did you fix the problem?
Share your experiences by commenting below!
***Photo courtesy https://www.flickr.com/photos/68751915@N05/6869762317/